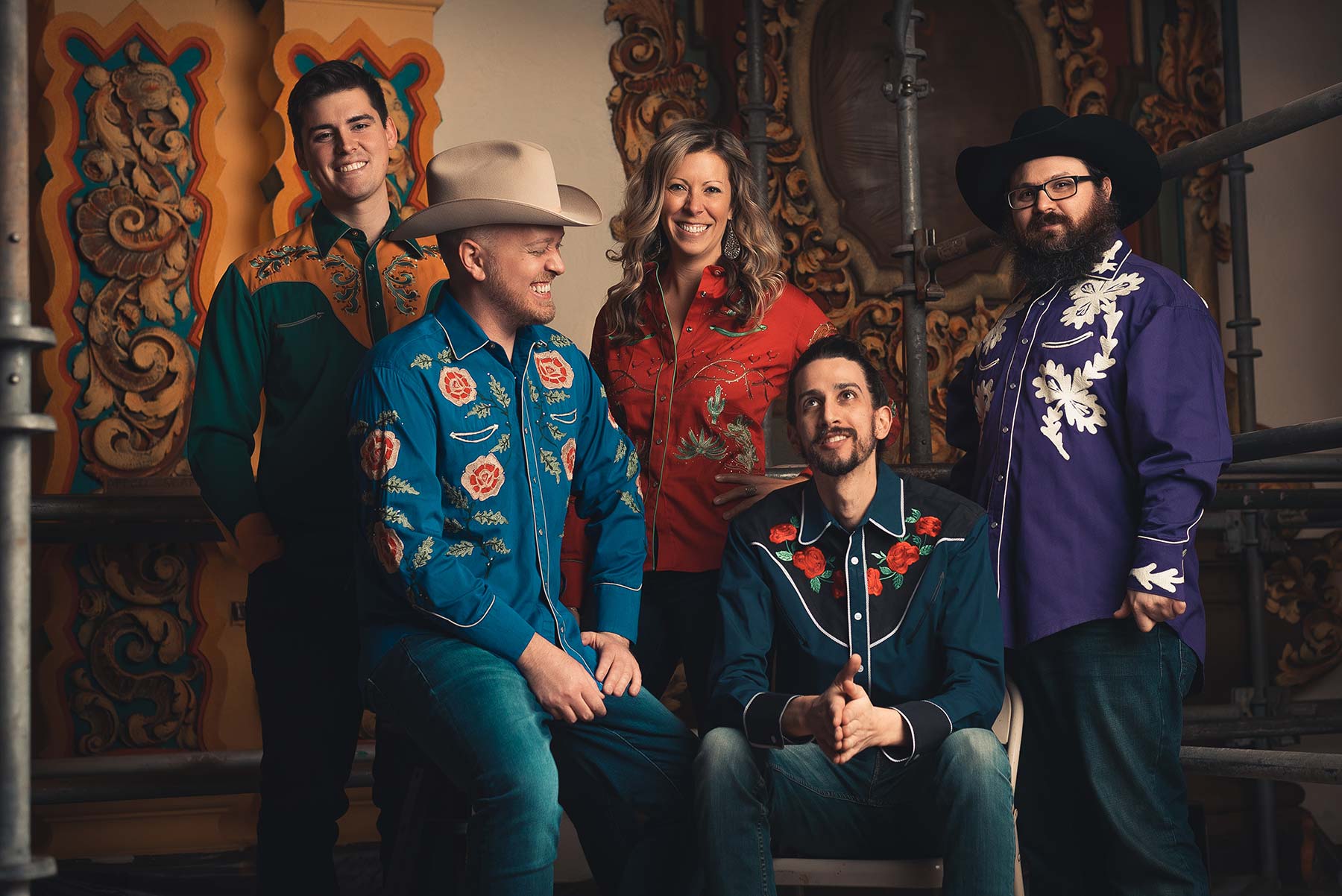 The Shootouts
Hailing from Akron, Ohio, The Shootouts are known for their energetic blend of honky-tonk, Americana, and traditional country. After releasing their acclaimed 2019 debut Quick Draw, the band charted Top 50 on Americana radio and in 2020, were nominated for an Ameripolitan Music Award for "Best Honky-Tonk Group."
They have shared the stage with luminaries Marty Stuart, Asleep at The Wheel, Steve Earle, Jim Lauderdale, the Nitty Gritty Dirt Band, Radney Foster, Sheryl Crow, Chris Isaak, Raul Malo, Kim Richey, and many more. The band was also invited to perform an official showcase at AmericanaFest 2021 in Nashville. Produced by Grammy-nominee and BR549 founder Chuck Mead, the band's 2021 release Bullseye has been praised by a range of outlets including Rolling Stone Country, American Songwriter, Wide Open Country, The Boot, and The Bluegrass Situation, amongst others.
The album spent over eighteen weeks on the Americana Music Association Top 30 album chart — including three weeks in the Top 10 – and has received regular airplay on Sirius XM Outlaw Country. The album also reached #1 on The Alt-Country Specialty Chart, #1 on The Roots Music Report Country Albums, #1 On The Roots Music Report Americana Albums, #42 On The Americana Music Association Most Played Albums Of 2021, and was named by the Country Mile UK as one of the Top Five Albums Of 2021.
The Shootouts are currently finishing up their third album, "Stampede," produced by 10x Grammy-winner Ray Benson, lead singer of Asleep at The Wheel. The album will feature special guest appearances from Ray Benson & Asleep at The Wheel, Marty Stuart, Buddy Miller, Jim Lauderdale, Raul Malo (of The Mavericks) and more.
Quotes
The Shootouts mix supple Western swing with brash barroom country to A-plus results. Chuck Mead, a torchbearer for such vintage sounds, produced the group's upcoming album Bullseye — it's a match made in honky-tonk heaven. Rolling Stone Country
The Shootouts effectively straddle the line between being a uniquely sounding outfit yet feeling as comfortable as an old friend from the first moment you hear them. (Bullseye is) everything Quick Draw promised and more. American Songwriter
If you want something done right, you go to the experts. So if you want some vintage honky-tonk, you go to The Shootouts. They approach their music with discipline and playfulness, a winning combination. No Depression
The Shootouts are Ohio's preeminent throwback honky-tonk band, and they've just released their latest album Bullseye produced by Chuck Mead. (It) illustrates the band's ability to work within classic country themes yet still feel fresh and relevant to today… The Shootouts and "Bullseye" are fire. Saving Country Music
Bullseye is a collection of top-notch, modern honky-tonk music that is rooted not only in great tradition, but in the here and now. Great songs. Great picking. Great singing. Bullseye gives it all to you. What more can you ask for? Chuck Mead
(The Shootouts) pull from many different threads and construct a beautiful garment. Buddy Miller